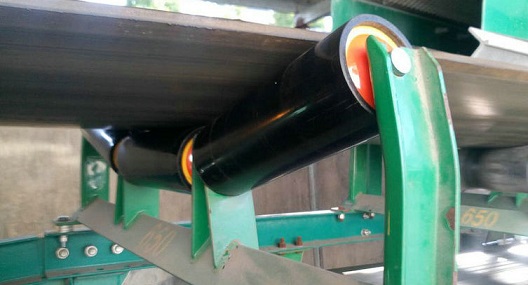 1. Features And Advantages
● Long lasting and environmental protection product, a better alternative to traditional steel conveyor roller;
● Anti-corrosion;
● Low vibration;
● Lower maintenance cost;
● Minimized the damage to the conveyor belt;
● Lower noise than traditional steel conveyor roller;
● Lighter than traditional steel conveyor roller;
● Water proof sealing device;
● Friendly to the bearing service life;
● Applicable to extreme temperature, and sever running conditions, like corrosive, damp and dusty environment;
● Different colors are available;
● Can be used whereas steel conveyor roller works.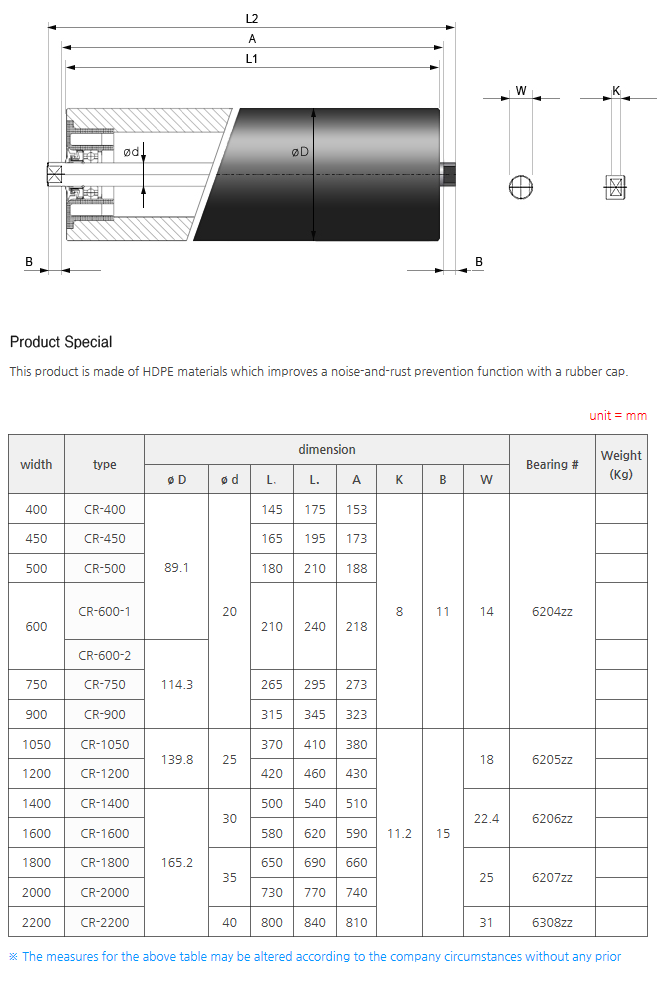 What are the advantages of HDPE/UHMW-PE conveyor idlers over steel conveyor idlers?
Compared with general steel conveyor idlers, HDPE conveyor idlers have the following obvious advantages:
1) Abrasion resistance and long service life.
The high molecular material specially used for HDPE conveyor idler body, its mechanical function is similar to bronze, has excellent abrasion resistance, and has excellent self-lubricating function, also it would not harm rubber conveyor belt by sharp edge of broken idler.
2) Excellent anti-corrosion function.
The conveyor idler body and seals are made of polymer materials, which are corrosion-resistant, used in corrosive occasions, the service life can reach more than 5 times that of ordinary steel conveyor idlers. The standard of polymer corrosion-resistant conveyor idlers includes 4 series, including 89, 108, 133, and 159, and more than 30 varieties. Non-standard conveyor idlers can also be manufactured according to the needs of users. There are two types of roller body materials: MC nylon and polyurethane, which are selected according to the characteristics of corrosive substances in the application environment.
3) Light weight and small rotational inertia.
The special polymer material for HDPE conveyor idlers is light in weight, and its specific gravity is one-seventh of that of steel. The conveyor idlers made of this material are about one-half of the weight of ordinary conveyor idlers, and have small rotational inertia, which reduces the number of conveyor belt motors. reduce the starting pressure and save a lot of electricity, saving the operating cost of the enterprise.
4) Reasonable layout and reliable sealing.
The HDPE conveyor idlers is equipped with two labyrinth sealing systems, and is coated with special grease, which has a good sealing effect. It can effectively prevent dust, gas, liquid and other corrosive media from entering the roller and damage the bearings, thereby prolonging the working life of the conveyor idlers.
HDPE/UHMW-PE CONVEYOR IDLER Application:
1. Lining: returning device such as silo, hopper, wear-resistant plate, bracket, chute, sliding surface, roller, etc.;
2. Food machinery: guard rail, star wheel, guide gear, roller, bearing lining, etc.;
3. Paper making machinery: suction box cover, deflector, wiper, hydrofoil;
4. Chemical industry: sealed filling board, packing material, vacuum mold box, pump parts, bearing bushing, gear, sealing joint surface;
5. Others: agricultural machinery, ship parts, electroplating industry, extremely low temperature mechanical parts.