Belt Conveyor idler / Carrying idler
Conveyor idlers are an essential component of heavy-duty material handling systems in industries such as coal and mining, power, and cement. The conveyor idlers are designed to support and guide the conveyor belt along its path, ensuring smooth and efficient operation.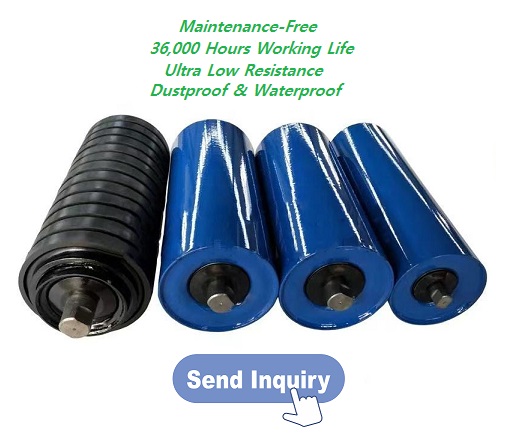 Detailed conveyor idler feature:
Conveyor idlers: Available in diameters ranging from 50 mm to 219 mm (2 1/2" to 8 5/8"), with lengths from 190 mm to 3400 mm, to suit a wide range of conveyor systems.

Idler Tube: Made from Q235 steel for durability and strength.

Idler Shaft: Constructed from 45# steel for reliable performance.

Bearing: Equipped with single and double row deep groove ball bearings, with 2RZ and 2Z options available, and C3 clearance for enhanced efficiency and reduced friction.

Seals system: Features a grease retaining inner seal with multi-stage labyrinth design, along with a retention cap, to prevent dust and debris from entering the bearing.

Lubrication: Uses lithium soap type grease with rust inhibitors, to ensure smooth and reliable operation.

Welding technology: Utilizes mixed gas shielded arc welding for strong and consistent welds.

Painting technology: Offers a variety of painting options, including ordinary painting, hot galvanized painting, electric static spraying painting, and baked painting, to suit the specific needs of each application.
Overall, our conveyor idlers are designed and built to meet the rigorous demands of heavy-duty material handling systems, ensuring smooth and efficient operation and long-lasting performance.
Conveyor Bracket with Conveyor Idlers: