Conveyor roller idler / Carrying roller idler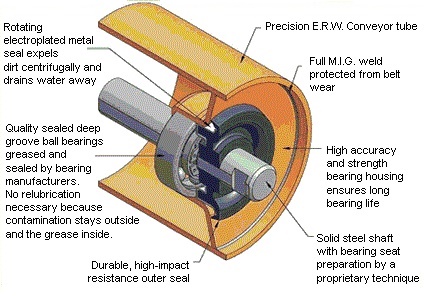 Detailed conveyor idler feature:
1.Roller idlers Dia 50mm-219mm, length 190-3400mm, which are used in the steel industry, harbor, coal industry, power industry, cement industry, etc
2.Tube: Q235
3.Shaft: 45# STEEL
5.Bearing: Single & Double Row Deep Groove Ball Bearing 2RZ&2Z with C3 clearance.
6.Seals: Grease retaining inner seal with Multi-stage Labyrinth and Retention Cap with Outboard Rubbing Flinger Seal.
7. Lubrication: Grease is Lithium soap type grease with Rust Inhibitors.
8. Welding: Mixed gas shielded arc welding end
9. Painting: ordinary painting, hot galvanized painting, electric static spraying painting, baked painting
Besides we can manufacture the conveyor belt rollers/ idlers according to the buyers' requirements:
Diameter of Tube

Length of Tube

Bearing Type

Tube Wall Thickness

mm

inch

mm

(mm)

63.5

2 1/2

150-3500

6204

3.0-3.75

76

3

150-3500

6204 6205

3.0-4.0

89

3 1/2

150-3500

6204 6205

3.0-4.0

102

4

150-3500

6204 6205 6305

3.5-4.0

108

4 1/4

150-3500

6204 6205 6305 6306

3.5-4.0

114

4 1/2

150-3500

6204 6205 6305 6306

3.5-4.5

127

5

150-3500

6204 6205 6305 6306

3.5-4.5

133

5 1/4

150-3500

6205 6206 6207 6305 6306

3.5-4.5

140

5 1/2

150-3500

6205 6206 6207 6305 6306

3.5-4.5

152

6

150-3500

6205 6206 6207 6305 6306 6307 6308

4.0-4.5

159

6 1/4

150-3500

6205 6206 6207 6305 6306 6307 6308

4.0-4.5

165

6 1/2

150-3500

6207 6305 6306 6307 6308

4.5-6.0

177.8

7

150-3500

6207 6306 6307 6308 6309

4.5-6.0

190.5

7 1/2

150-3500

6207 6306 6307 6308 6309

4.5-6.0

194

7 5/8

150-3500

6207 6307 6308 6309 6310

4.5-6.0

219

8 5/8

150-3500

6308 6309 6310