Maximize Reliability: A Step-by-Step Guide to Selecting the Right Conveyor Idlers 2023
1.
Why do we choose the right conveyor idler?
As the main component of the belt conveyor, the conveyor idler is distributed under the belt conveyor belt, mainly used to support the belt and bear the load, shock absorption, avoiding belt misalignment, cleaning the belt is also its main function, therefore, its quality and correct selection, plays an important role in the service life, safe and stable operation and energy consumption of the whole belt conveyor, the guide recommended idler is suitable for ordinary belt conveyor with bandwidth of 500~2400 and high strength belt conveyor with high speed, high capacity and long distance, it is widely used in metallurgy, coal, hydropower, building materials, chemical industry, seaport, wharf and other fields, and can transport all kinds of bulk, granular, bulk materials and articles with a accumulation capacity of 0.5~2.5t/m³
2..
Conveyor idler performance index
No.

project name

performance index

1.

Working life

Normal use, the life is not less than 50000 hours, and the damage rate during the effective use period is not exceed 5%

2.

Rotational resistance coefficient of the idler

Factory laboratory test: 0.010;

Under the engineering service conditions: 0.020.

3.

Radial run-out

0.5mm (idler length <550mm)

0.6mm (idler length 550-950mm)

1.0mm (idler length> 950-1600mm)

1.2mm (idler length> 1600mm)

4.

Axial displacement of the idler

0.5mm

5.

idler dust and water volume

After the idler runs continuously in the container with dust for 200 hours, the dust does not enter the sealed grease chamber. After continuous operation for 72 hours under water condition, the water intake is 10g.

6.

idler axial bearing capacity

10 KN (idler diameter 108mm)

15 KN (idler diameter 133-159mm)

20 KN (idler diameter> 159 mm)

7.

idler drop test

All parts and welds shall not be damaged and detached;

The axial displacement of the idler after falling shall not be greater than 1.2mm;

The idler tube body and the bearing seat shall not be loosened;

The rotation resistance coefficient of the falling idler shall not be greater than 1.5 times that before falling.
3.
Selection diameter of conveyor
idler
When choosing the idler, attention should be paid to its appearance is smooth and clean, without obvious defects, and the performance indicators meet the following requirements.
3.1 The relationship between the
idler
diameter and the belt width is shown in Table 1
Table 1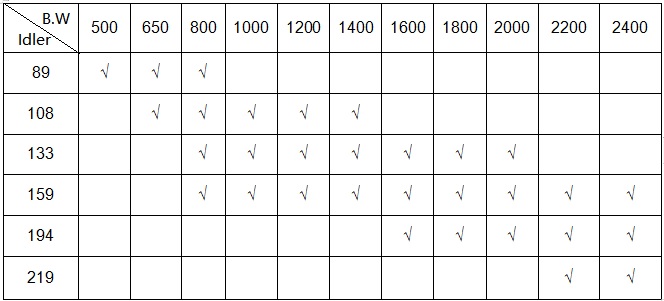 3.2 When selecting the
idler
, the speed shall not exceed 600 r/min. The relationship between the diameter of the
idler
and the belt speed is shown in Table 2
Table 2:

Idler diameter

(mm)

Belt speed m/s

0.8

1

1.25

1.6

2

2.5

3.15

4

5

6.5

Idler rotation speed, r / min

89

172

215

268

344

429

537

108

142

177

221

283

354

442

557

133

144

180

230

287

359

453

575

159

120

150

192

240

300

379

481

601

194

123

158

197

246

310

394

492

219

275

349

436

567
3.3
idler
load calculation

3.3.1 Static load calculation: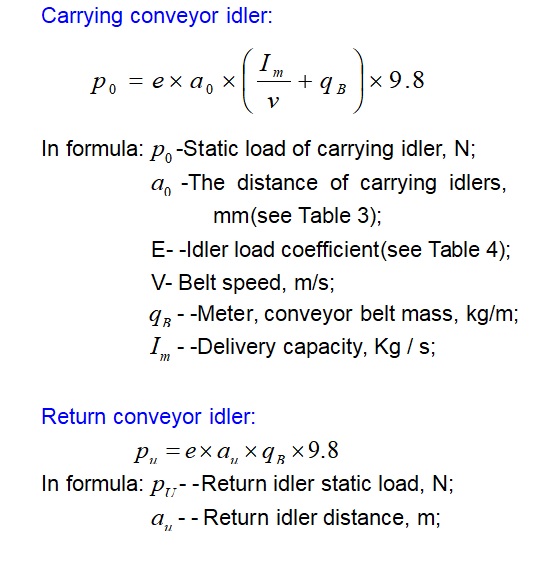 After the calculation, record the larger value of the static load and the dynamic load, and check the conveyor idler bearing capacity (table8) to select the conveyor idler so that the bearing capacity is greater than or equal to the calculated value.

Table 3
Idler spacing a0 mm
loose

density

Kg/m³

Belt width

500

650

800

1000

1200

1400

1600 1800

2000 2200

Idler spacing

≤1600

1200

1200

1200

1000

>1600

1000

1000

1000

1000
Table 4

Idler load

coefficient e
| | |
| --- | --- |
| Idler Group | e |
| One idler | 1 |
| Two idler | 0.63 |
| Three idler | 0.8 |
3.3.2 Dynamic load calculation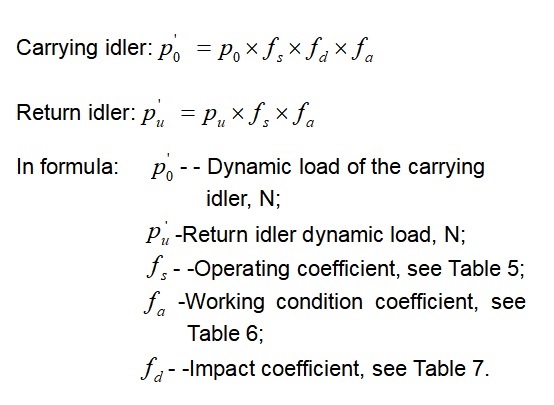 Table 5 Running coefficients
f
s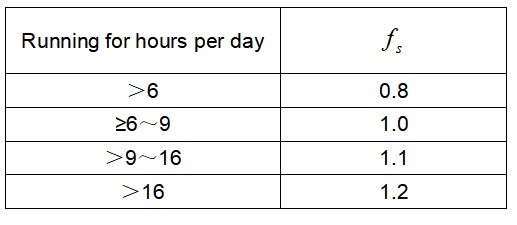 Table 6 Working condition
fa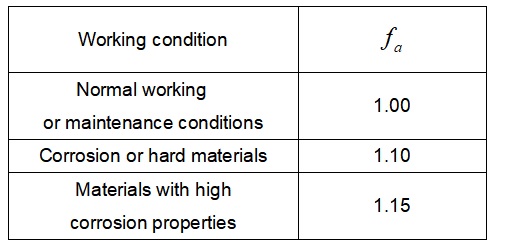 Table 7 Impact coefficient

f

d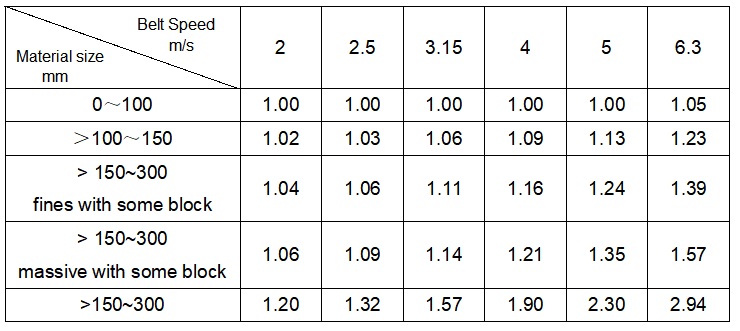 3.4 The relationship between bearing specifications and bearing capacity is shown in Table 8
Table 8 Bearing capacity of the idler: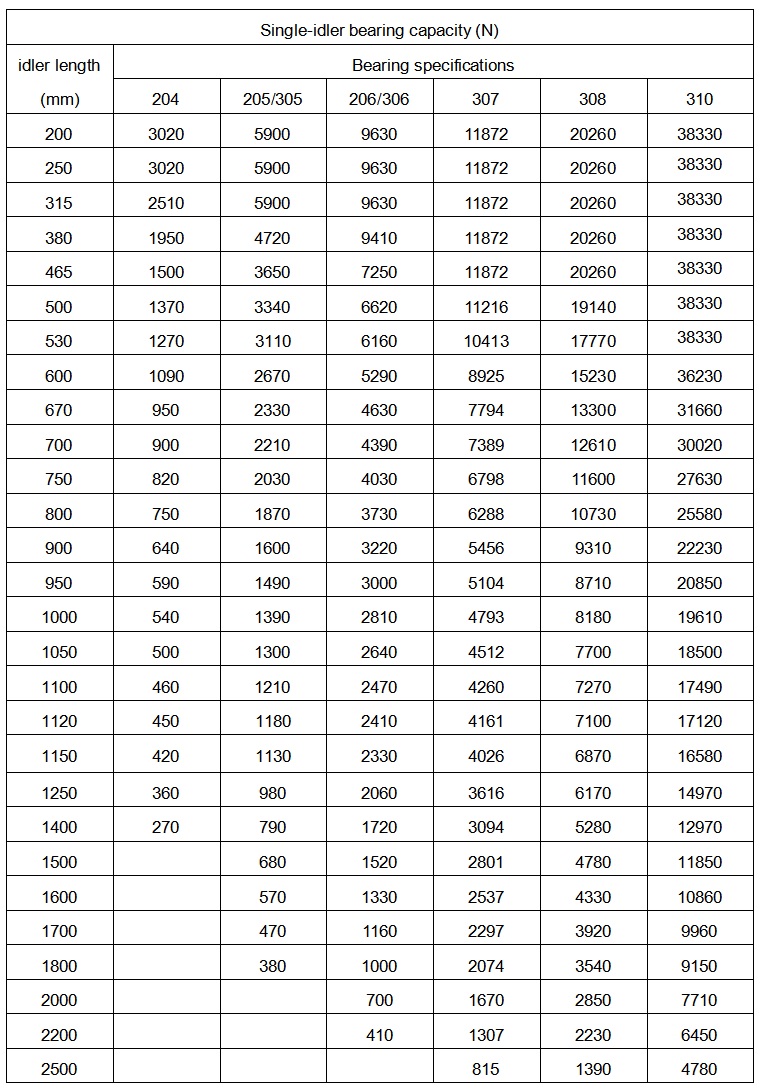 In conclusion, selecting the right conveyor idler is crucial for ensuring the smooth and efficient operation of your conveyor system. By following the guidelines outlined in this comprehensive guide, you can make informed decisions based on factors such as load capacity, belt width, roller material, and environmental conditions. Remember to consider the specific needs and requirements of your application to choose idlers that offer durability, reliability, and optimal performance. With a well-chosen conveyor idler, you can enhance productivity, reduce maintenance costs, and maximize the overall efficiency of your material handling processes.
A Step-by-Step Guide to Selecting the Right Conveyor Idlers 2023
10 basic factors to consider when choosing a suitable conveyor idler
Only one table can help you easily choose the right conveyor idler set (belt width from500~2400mm)
3 key parts that most affect the operating life of conveyor idlers