Trapezoidal Rubber Discs of conveyor idler for Effective Conveyor Belt Cleaning
Material buildup on the return conveyor idler surface can cause irregular wear on the idler shell. Excessive sticky return conveyor idler surfaces can cause changes in the shape of the rollers which can lead to belt misalignment, damage and eventually failure. While rubber disc return conveyor idlers are ideal for return cleaning in wet, sticky or abrasive conditions to avoid unwanted buildup on conveyor return rollers, the spacing of wear-resistant rubber discs at specific locations ensures effective elimination material deposition and reduced belt wear resulting in a low cost, minimal maintenance solution.

Now there are two kinds of rubber discs, one is trapezoidal disc and the other is flat rubber disc, at present, trapezoidal discs are gradually replacing flat rubber discs. The specific advantages are as follows: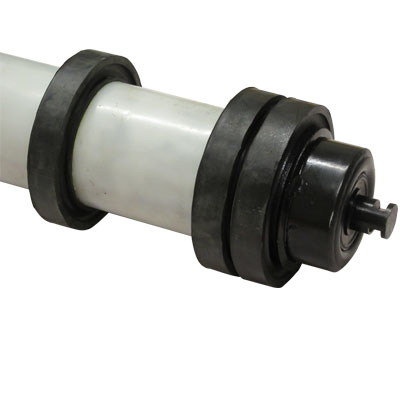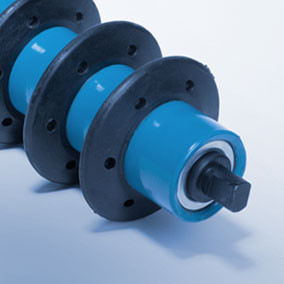 This trapezoidal shape has been widely used in the production standard of our cleaning conveyor idlers because of the following advantages:
1. It is more effective to clean the sticky material (as shown in the picture). Since there is a large enough space between the trapezoidal rubber rings, there is a backlog effect on the sticky material, which will more effectively clean the sticky material on the surface of the conveyor belt.
2. Since the trapezoidal apron has more space than the ordinary flat apron, the sticky material will be thrown out in time, which can reduce the serious adhesion of impurities to the cleaning roller, thereby reducing the resulting stuck phenomenon of the roller.
3. The contact area of the trapezoidal rubber ring is smaller, so that the friction force and resistance of the return roller are smaller, so that the conveying efficiency of the entire conveying line is improved, and it is very energy-saving.
4. Less noise: Due to the small contact area, trapezoidal aprons generate less noise than flat aprons.
5. Easy clean maintenance: due to the larger space between the trapezoidal rubber rings, the cleaning work will become very easy, thereby reducing downtime and improving the production efficiency of the conveyor line.
In summary, the use of trapezoidal rubber discs in conveyor belt cleaning rollers can offer several advantages over flat rubber discs. By reducing the buildup of sticky materials, minimizing roller sticking, improving conveying efficiency, and reducing noise, trapezoidal rubber discs can provide a low-cost, low-maintenance solution for conveyor belt cleaning in challenging conditions. As a result, businesses can improve their productivity, reduce downtime, and enhance their bottom line by investing in these innovative cleaning solutions.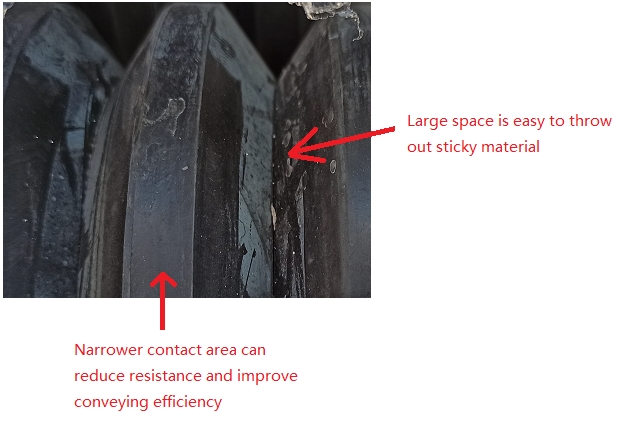 A Step-by-Step Guide to Selecting the Right Conveyor Idlers 2023
10 basic factors to consider when choosing a suitable conveyor idler
Only one table can help you easily choose the right conveyor idler set (belt width from500~2400mm)
3 key parts that most affect the operating life of conveyor idlers