How to Choose a Reliable Conveyor Idler Manufacture?
If you choose to import conveyor idlers, conveyor pulleys and other conveyor accessories from overseas, choosing a reliable manufacture is the key factor to ensure stable operation of the equipment and production efficiency, but due to time and distance, you cannot go to the factory for inspection, so how to judge a manufacture? Is the manufacture reliable?
1. International qualification certification:
Without any knowledge of the conveyor idler manufacture, a group of internationally recognized authoritative certifications is undoubtedly a reliable reference, such as the ISO series of certifications. The main function of ISO (International Organization for Standardization) is for people The establishment of international standards to reach consensus provides a mechanism that covers quality, environment, employee health and many other fields. It is one of the most authoritative corporate certifications recognized internationally. The following are the three main ISO certificates.
a.ISO9001 (QUALITY MANAGEMENT SYSTEM CERTIFICATE) quality management system certification is one of the important standards for judging manufactures' quality management capabilities. This certification shows that the manufacture complies with international standards in terms of product design, production, sales and service, and can continuously improve and meet customer needs.
b. ISO45001 OHSAS (OCCUPATION HEALTH SAFETY MANAGEMENT SYSTEM CERTIFICATE CONFORMITY) ensures that manufactures have taken effective measures in terms of employee health and safety. This means that manufactures focus on the health and safety of their employees and are committed to preventing accidents and occupational diseases.
c.ISO14001EMSC (ENVIRONMENT MANAGEMENT SYSTEM CERTIFICATE) environmental management system certification shows the manufacture's efforts in environmental protection. This shows that the manufacture complies with relevant environmental regulations and has taken measures to reduce environmental pollution and waste of resources.
In addition, for conveyor idler manufacturers, coal mine safety certification (SAFTY CERTIFICATE OF APPROVAL FOR MINING PRODUCTS) is also a very important certification, which is especially important for customers who need to use conveyor idlers in coal mine environments. This certification ensures that all conveyor idlers, pulleys and their conveyor accessories should comply with coal mine safety standards, and can maintain stable and safe operation in the high-risk environment of closed underground and high-concentration gas, which will control the quality of manufactures make very high demands
The above series of certifications can not only verify the supplier's scale, management level and R&D strength, but also rule out the possibility of being a trading company.
2.
conveyor idler
performance testing equipment: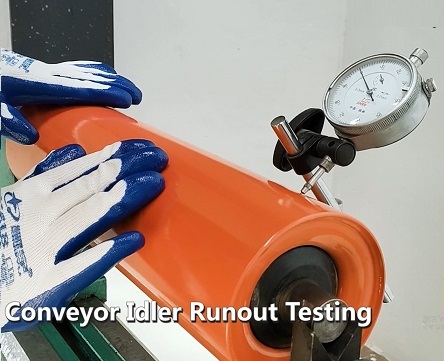 Whether the manufacture has complete conveyor idler testing equipment is also an important consideration. Such as radial runout test equipment, dustproof and waterproof test equipment, resistance test equipment, etc., high-quality testing equipment can ensure the stability and consistency of the quality of the conveyor idler, and detect potential quality problems in time. Customers can learn about the types and performance of manufactures' testing equipment and evaluate them.
In addition, it is also important to understand the research and development capabilities and technical strength of the conveyor idler manufacture, a manufacture with strong R&D capabilities can provide more advanced and reliable products, which can be customized according to the specific needs of customers.
A Step-by-Step Guide to Selecting the Right Conveyor Idlers 2023
10 basic factors to consider when choosing a suitable conveyor idler
Only one table can help you easily choose the right conveyor idler set (belt width from500~2400mm)
3 key parts that most affect the operating life of conveyor idlers
3.History and Customer Feedback:
Examining a conveyor idler manufacture's history and customer feedback can help customers understand the manufacture's credibility and reputation. Customers can ask whether the conveyor idler manufacture has a long-term cooperative relationship and whether there are successful cases with customers in similar industries. Also, get feedback and opinions from other customers by searching for manufacture reviews and word of mouth.
4. Supply chain management:
The supply chain management capability of conveyor idler manufactures is also one of the important considerations in selecting manufactures. Customers can understand the manufacture's capabilities in raw material procurement, production, logistics and inventory management, such as whether the manufacture of steel pipes and bearings is a brand owner. The efficiency of supply chain management will ensure that products can be delivered on time and manufactures can be flexible Respond to changes in customer needs.
5. International third-party quality certification:
The strength level of the verification factory can also be proved by the certification of the international third-party organization, such as SGS certification. This detection method is usually designated by the customer. The third-party organization entrusts professional inspectors to conduct on-site inspections of the quality of the rollers, covering various technologies of the rollers. aspect, so the reliability is very high.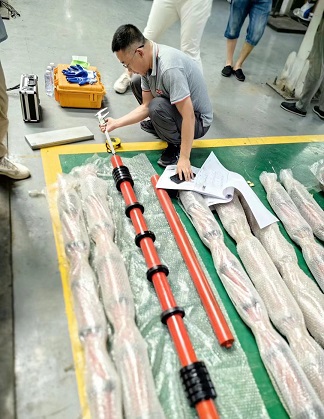 To sum up, choosing a reliable conveyor idler manufacture requires customers to conduct a comprehensive evaluation from multiple aspects such as qualification certification, equipment and technology, historical records and customer feedback, and supply chain management. Only by choosing manufactures with certification, advanced equipment, good reputation and effective supply chain management, customers can obtain high-quality conveyor idler products and high-quality services to ensure long-term stable operation of equipment.